TV Mounting and TV Installation Service for Homes and Businesses in Toronto
Did you just buy a brand new TV? Bringing a new screen home is a thrilling experience for the entire family. You'll all spend hours of family time in front of the TV, so it's important that you position it in the room correctly.
Most TVs come with feet that act as the stand. However, it's more or less a fixed mount, and you'll need a coffee table to rest the TV on. Mounting your TV to the wall is the best option for your new entertainment setup.
Mounts come in various styles, allowing you to turn the TV to point the screen at any part of the room. However, installing a TV mounting is challenging, and it can take several hours to get it right, depending on the work required.
If you have a new TV, you need professional TV mounting and TV installation in Toronto. John the Handyman is ready to assist you with your installation; we'll have your new set up ready to watch your favorite shows this evening.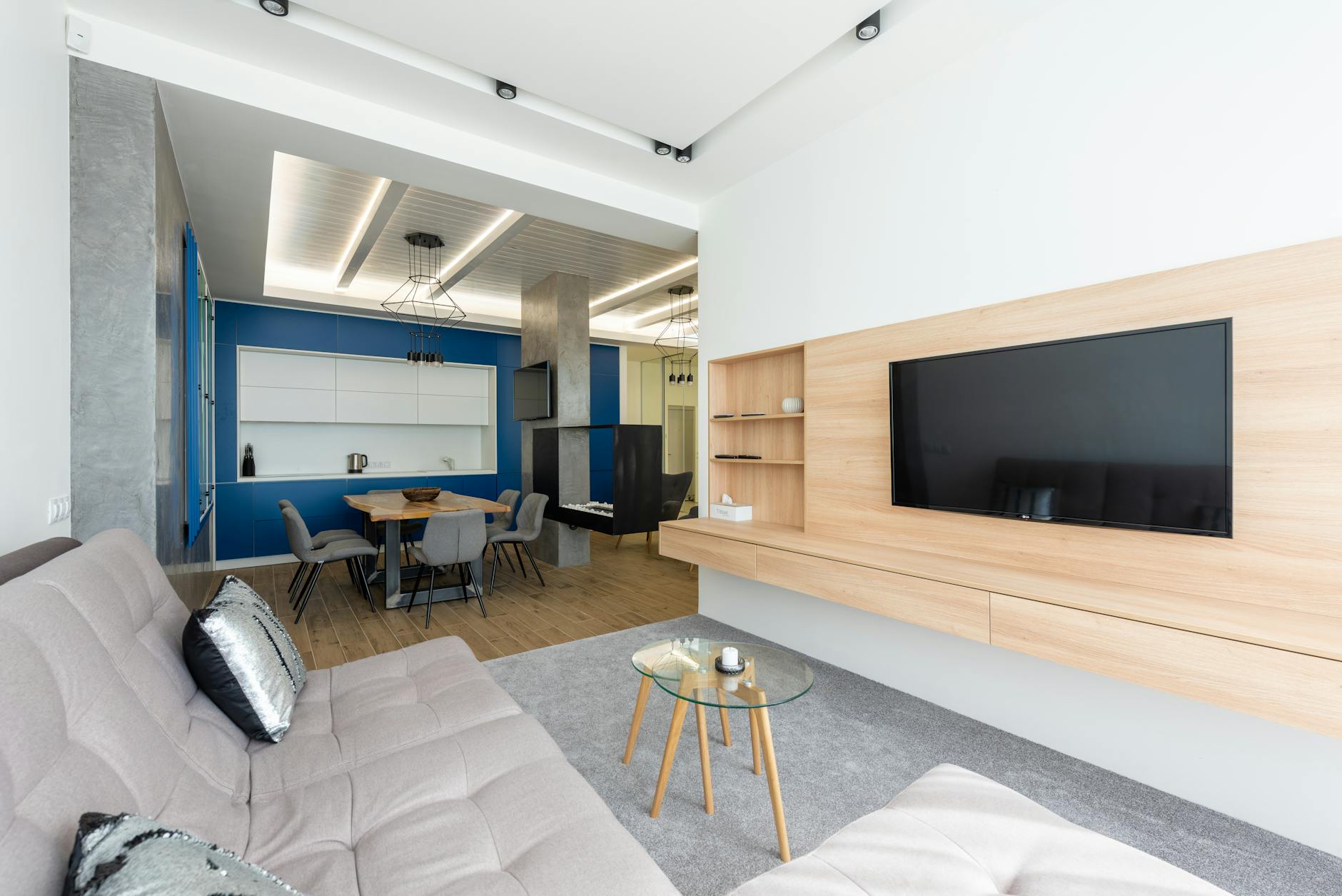 We can mount any size television!
It makes no difference what size television you have bought and need to mount and install – we can do the job and do it right! We custom install screens (in Toronto) ranging in size from 45″ to 80″ and beyond.
Do you have a fireplace? Do you have a mirror wall? Not a problem.
Do you want to hang your TV above or over a fireplace but think it is impossible? We are your one-stop shop for bespoke television mounting in difficult-to-install materials such as brick, stone, marble, drywall, and glass. We offer the best deals in Toronto for you and your loved ones – so that you can begin enjoying your TV or new entertainment system as soon as possible. If you don't have a TV mount, don't worry; our expert will bring one with him.
With our Exterior TV Installation Services, you can bring the show outside.
You are surely aware that we install TVs for Torontonians inside their homes and businesses, but we also install TVs for exterior spaces. Thanks to amazing modern engineering and great advancements in TV tech, they are waterproof and have a long lifespan. So, you can easily enjoy sporting events, movies, and television programmes while barbecuing in the backyard and focusing (internalizing and enjoying) on what matters.
Why Choose John the Handyman for Your TV Mounting TV "Installation Service in Toronto?
So, why choose John the Handyman for your new TV installation in Toronto (or any surrounding area)? Why do we deserve your business?
Masterful TV Installations in Toronto
We work with all makes and models of TVs, and we can install them on any surface, from brickwork to drywall. We also offer hanging installations and setup of home entertainment systems.
Professional Handypersons for TV Mounting in Toronto
We have tons of experience in mounting TVs.  We've been installing them in homes and offices across the Greater Toronto Area for some time now. Our handypersons have the skills, experience, and tools to ensure you get a professional installation.
A Reputation You Can Trust
John the Handyman relies on your business. We understand that you might be nervous about inviting strangers into your home. We run full background checks on all our employees before welcoming them to the team, and all our employees go through extensive customer service training to ensure they meet your expectations.
Fully Insured, Bonded, and Licensed
John the Handyman has the right licenses to install TVs in the Greater Toronto Area. We're a fully insured service, so you don't have to worry about any damage happening in your home.
Affordable Pricing
John the Handyman has some of the best rates in the Greater Toronto area. When you hire us, you get a team dedicated to doing the job right at an affordable price.
Customer-First Approach
We realize that we are nothing without our customers. Our trained professionals give you the best quality installation because we want you to call on us anytime you need odd jobs doing around the home.
Iron-Clad Guarantee
John the Handyman will back up our work on your property with our "Iron-Clad Guarantee." If anything goes wrong with your installation after we leave the site, contact our offices, and we'll send a technician to your address immediately.
John the Handyman Service for TV Installation in Toronto
John the Handyman offers you a complete TV installation and TV mounting service in Toronto. We have an experienced and professional team that knows how to install any mounting and any TV on any wall. We offer you a fast, reliable, and guaranteed service that you can trust.
Contact our offices right now for assistance with any of the following services.
TV Installations

Projector Installations

Monitor Installation

Video Wall Installation

Smartboard Installation

Wire Concealment
TV Installations and TV Mounting Toronto
With John the Handyman, you can save up to 50% on the costs of installing your new TV, compared to big-box retailers like Best Buy. It might seem convenient to pay for your TV installation when you purchase your TV; they could leave you waiting for a few days before getting around to your installation.
With John the Handyman, call us a day or two before you want to buy your TV. We'll schedule an installation for the day of your purchase, letting you have your new TV mounted and ready for viewing on the day of your purchase.
When it comes to installing a TV on the wall, the mounting matters. 
The height, screen position, and lighting in the room all play a role in locating the best spot to mount your TV. John the Handyman assesses all these factors before mounting your TV. Then, we'll make suggestions on the best places in the room for the installation and let you make your choice.
When it comes to fitting the mounting, we get the job right the first time. Our team takes time to ensure they measure the space for a perfectly level fitting of the mounting to the wall. That's an important part of the fitment process. If the mounting isn't precisely level, then the TV appears cocked to one side, ruining your viewing experience.
The type of mounting you select for your TV also plays a significant role in your entertainment experience with your new TV. Some of the popular mounting systems we regularly install for our clients include the following.
Single-Arm Moving Mount (Full Motion)
Suits TVs from 37″ to 70″.

Works with flat or curved screens.

High-gauge steel construction won't wobble, sag, or bend.

The 24″ extension allows for multiple viewing angles.

180-degree swivel for optimal viewing at any angle.
This single-arm mounting system is the best choice for adjusting your viewing position. Keep the screen out of the glare and customize your setup to any viewing position.
The arm moves effortlessly at a slight touch, allowing for tilting and side-to-side movement of the arm and the TV. This mounting system gives you the best range of motion, and it can handle heavy loads.
Double-Arm Moving Mount (Full Motion)
Suitable for TVs from 37″ to 90″.

Compatible with flat or curved screens.

High-gauge steel doesn't bend, sag, or wobble.

24″ extension allows for a variety of viewing positions.

Supports up to 140-lbs.

180-degree swivel for optimal viewing at any angle.
The double-arm system gives you more swivel and viewing angles. Like the single-arm model, it's lightweight and supportive, allowing easy turning of the screen to suit any viewing angle in the room. It's the better choice for TVs with screens larger than 65″.
Tilting TV Mount
Suitable for TVs from 37″ to 70″.

Compatible with flat or curved screens.

High-gauge steel doesn't bend, sag, or wobble.

10-degree tilting angle.

Supports up to 165-lbs.
The tilting mount is a good choice if you want to mount your TV higher on the wall. You get a 10-degree tilting angle that lets you set up the TV to any viewing angle to cut down on the glare.
Also, you won't have to strain your neck looking up at the TV; it offers you a comfortable viewing position and plenty of strength for holding up the largest TVs.
Wall Projector Installations in Toronto
John the Handyman can also assist with the installation of wall projectors. So whether you use a projector at the home or office, we can help you with a professional installation for your new device. Our experienced handypersons know how to navigate any projector's complexities, and we have tons of experience with these installations.
When installing your projector, the handyperson needs a precision approach to the job to ensure that you get the best viewing experience from the system. So whether you're using the projector for home entertainment or at the office for meetings, John the Handyman knows the correct placement and installation requirements for any projector setup.
John the Handyman works with you to find the perfect position for your projector in your home or office. We'll make recommendations on the placement depending on the light and glare in the room, as well as the optimal seating arrangement.
One of the best parts about installing a projector in your home or office is the flexibility you get in the process. We can mount your projector and screen in several different positions to deliver a high-quality entertainment experience for you and your family.
John the Handyman consults with you during the process to ensure we provide you with an optimal installation and configuration of your projector for the best results.
Our team can also help you with suggestions on the best projector models and screens for your home. We have tons of experience installing these systems, and we know all the latest technology and installation techniques for your new entertainment system. We're happy to give you world-class advice about choosing the right setup for your home or office.
There are different mounting systems for different projector and screen models, and we can fit any of them in your home or office. We'll make recommendations for the optimal choice for your home, based on your requirements and your budget.
Projector mounts come in manual and motorized models, and we'll show you the difference between the two options. John the Handyman will install your new TV using a clean power source. This strategy averts electromagnetic and radio frequency interference from ruining your viewing experience.
As a result of our professional installation, you can expect to have a higher-quality video output from your setup.
Monitor Installation in Toronto
Are you setting up an office or a home office? What are you going to do about your monitors? The reality is that monitors take up precious space on your desk. Unlike TVs, monitors come in several configurations, and not all mounts will work with your monitor setup.
Choosing the incorrect mount for your monitor could result in the system failing and the monitor crashing to the floor. Therefore, it's critical that you select the right mounting bracket and that you hire a professional to install it in your office or home.
With John the Handyman, you get a team with plenty of experience setting up monitor configurations for the home or office. Let us help you take the clutter off of your desk, giving you more space for other tools you need on your workstation.
John the Handyman works with all businesses and homes across the Greater Toronto Area. We'll install your monitor in any configuration you want, and we can even hang them from the ceiling.
It's important to hire us when you want to install your monitors. As mentioned, mounting monitors is a bit more tricky than installing a TV on the wall. By hiring John the Handyman, you get to benefit from our experience in installing these systems.
We'll help you select the right VESA plates and mounts, providing as many arms for your monitors as you need around your workspace. The monitor system is stable, and there's no chance of it slipping or falling. You get a secure installation that won't wobble or sag. Call the experts and get John the Handyman to mount your new monitor setup.
Soundbar Installation in Toronto
What's a new TV without a soundbar to amplify the experience? Soundbars are amazing enhancements to your viewing experience. However, just like your new TV, they perform better if they have a permanent mounting in the room.
We can install your soundbar on the walls and hide the wiring for a clean look. Then, we'll fit the system and show you how it works, and we can help you with the installation and configuration of smartphone apps designed to manage the system remotely.
Video Wall Installations In Toronto
A video wall provides a medium of communication for offices, boardrooms, security rooms, and retail and commercial settings. Introducing the animation and movement of a video wall catches people's attention, making it ideal for marketing or branding purposes.
Typically, a video wall is a collection of monitors daisy-chained together to form panels on a larger screen. The system works through simple software, allowing you to upload any media you like. You also can split the screens to display separate images or use the entire surface for single images or video presentations.
Installing a video wall in the office or boardroom has plenty of benefits, from branding to client onboarding videos, instructional content, and more. Building a video wall at home also has plenty of advantages. Watch the big game on a massive screen, or let your partner watch TV shows while you check out the news. We've worked on multi-screen projects with the largest screen areas in a variety of locations.
Mounting a video wall requires professional expertise. It's not a DIY project you want to take on yourself unless you know what you're doing. At John the Handyman, we've built lots of video walls in retail, commercial, office, and home settings across Greater Toronto.
Our team can also assist with any audio setup or home theater system you want to connect to the video wall. In addition, our team can build custom video walls into any room, retail space, conference room, office, or commercial space.
Contact us right now, and our service team will send a handyperson to your location to hear your ideas. If you know what you want exactly, we can make it a reality. If you need some help tossing around ideas, we can do that for you as well.
Smartboard Installations in Toronto
John the Handyman can assist with smartboard installations anywhere in the Greater Toronto Area. We fit more of these devices by the day, and it's an excellent example of how technology influences our experience with the world.
These interactive boards aren't only for Sports Center. Chances are you've seen analysts use them to draw on large TV-like monitors, using interactive tools to help them explain their analysis of the game. Smartboards have hundreds of applications beyond sports analysis.
They're a good choice for the office or boardroom, and more schools are starting to use them to fortify teaching methods.
The proper installation of a smartboard requires experience with handling the board, preparing a mounting, and installing the board to its full operational capacity without incurring any damage to the unit.
John the Handyman has the experience you need to get a fast, effective installation of your smartboard. We work with all makes and models of smartboards, and we keep up-to-date on all the latest technology developments.
We also offer custom housings and fittings for smartboards. We'll construct you housing for your smartboard that matches the décor of the room, living or commercial space, with a professional finish and guaranteed results.
Wire Concealment in Toronto
After installing your new TV or video system, there are likely wires hanging around behind the TV to the power source and the media player or internet cable. Speakers systems may also have wires presenting tripping hazards to the surround sound on the peripheral areas or the room.
Hanging wires not only present tripping hazards but the potential for damage to your equipment and an electrical hazard as well. Tidying up the cables with proper cable management is essential to get a clean look for the setup after installation.
There are several methods for cable management. John the Handyman can run you through your top options, allowing you to make an informed choice of the best cable management solution to suit your home, office, or commercial space.
We have lots of experience hiding wires in any location, on any surface, and in any material. The best option is to conceal the cables in the wall, but that's not possible with all materials. However, we can arrange conduit installation for a professional, flat look that blends into the surrounding.
We also assist with managing the cable around your devices, providing a flush fit that's virtually invisible on any surface. Trying to do it yourself is fine, but you won't get the same results as our expert handypersons; we've installed tons of home theatre systems, TVs, and video equipment over time (and we are ridiculously good).
Contact us and book your TV mounting and TV installation service with John the Handyman today.
Installation of Low-Voltage Cabling in Toronto
John the Handyman can also assist with installing low-voltage cabling for your video and audio home theater setup. In addition, we offer wiring services for residential and commercial applications, including installing any required jacks or ancillary management systems.
We'll assist with the management and re-routing of your ethernet cables, HDMI, and audio cables, and any required relocation of your router. John the Handyman also helps with residential and commercial wiring services.
We offer HDMI, data(Cat6E), V(coaxial), speaker wire, and rack and patch panel installation services for any application.
The Handyman Company that Cleans Up
When you hire John the Handyman, you get full cleanup of the work area included in your estimate. We understand how frustrating it can be to pay for a service, only to find that the contractor didn't clean up properly when they left.
With John the Handyman, you get full site cleanup included with your installation. As a result, we never leave your home, office, or commercial building looking like a mess. Of course, we would prefer to have you inspect the site before we leave, but if you're not around, we'll give you a call to inform you that all the work, and the cleanup, are in order.
Contact our service center, and our friendly consultants will arrange a day for your TV mounting and TV installation service with John, the handyman.
What Is the Process of Installing Video Media in Your Home or Office?
When you work with John the Handyman for Your TV mounting and TV installation in Toronto, you get a simple, easy process and guaranteed results. Here's what you can expect from us with your installation.
After booking your installation, our team arrives at your location on time.

We'll assess the work and finalize the quote.

We'll give you a timeline for the job.

If there is a need for any special materials, we'll inform you before we start.

After approval of the quote, we get to work per the terms in our service level agreement.

We configure the setup to the optimal settings.

We'll complete all cable management requirements to conceal wiring.

We finish the installation and clean up the site.

We'll call you in for a final look and inspection, or we'll call you on the phone to tell you everything is in order.
John the Handyman Installs Any Screen Across the Greater Toronto Area
Contact John the Handyman for assistance with installing any screen. Our service team is ready to take your appointment. Give us a breakdown of the work you need, and we'll give you an estimate over the phone. When we arrive at your location, our handypersons will assess the job and finalize your quote.
There's no obligation for your to accept our quote. However, if you want to shop around, we doubt you'll find another handyman service with the same reputation, professional attitude, and affordable pricing.
Which Parts of Toronto Does John the Handyman Service?
John the Handyman services all residences and businesses across the Greater Toronto Area. We can reach any city in the region, with mobile units carrying all the tools and materials we need to finish the job.
There is nowhere in the GTA that we don't service, including cities like Hamilton, Mississauga, Durham, Halton, Peel, and York. In addition, we cover locations along the entire GTA shoreline of Lake Erie, Lake Ontario, and Lake Huron. So whether you live in Mississauga or Downtown Toronto, we'll get to your location.
Contact our friendly assistants at our call center, and we'll take your details to book your installation. We work around your schedule to ensure you get the best experience possible with your new TV mounting and installation.
John the Handyman's Iron-Clad Guarantee
Every job we take on comes with the backing of our "Iron-Clad Guarantee." We take pride in our work, and we never do a rush job. We understand that our reputation means everything in this industry, and we want you to be our next success story.
Most of our business comes through referrals, so we value every interaction we have with you. When you hire John the Handyman, you're getting world-class technicians, along with the best customer service in the industry. We aim to over-deliver with our services. So we invite you to put us to the test and give us the chance to outperform your expectations.
If anything goes wrong with your installation, contact our offices immediately. We'll dispatch a handyperson to your home or office to correct the problem, and we won't leave the site until you're satisfied with the work.
TV Mounting And Installation Service FAQ
Q: What does it cost to mount or install my TV in Toronto?
A: The pricing for installing and mounting your TV in the home or office varies, depending on the size of the TV, the type of mounting, and the work required in installing the TV and hiding the cables.
Typically, you can expect to pay anything from $120 or higher for the job. Larger TVs require two handypersons for the job, and that increases costs.
The structure and materials in your building also play a significant role in the cost of the job. For example, there's a substantial difference between installing your TV on drywall with wood studs than drilling directly into a brickwork wall.
When you call into our service center, our friendly consultants will ask you a few basic questions about the size of the TV and the materials on the wall you want us to mount it on. We'll give you a basic estimate over the phone and finalize our quote when we arrive on-site and take a look at the work involved.
Q: Can John the Handyman hide all the cables in any wall?
A: Yes, John the Handyman is an expert at hiding the cables coming from your TV. Seeing the power and HDMI cables hanging from the back of your TV is unattractive. We'll hide them in the wall for you, giving your setup a clean look.
However, it's important to note that wire concealment is best in walls with cavities, such as drywall and wooden studs, drywall and metal studs, and interior plaster. Hiding wires in brick or concrete walls is not an option. However, we can use conduit to provide a clean look to the fitment of your TV mount and installation of your TV.
Q: How long does it take to mount a TV on my wall?
A: Mounting the TV is a laborious process and not as easy as you think. If you don't have the right DIY skills, you should avoid tackling the installation yourself.
The time it takes to mount a TV depends on factors like the TV size, location, wall materials, and connection to other peripherals, like soundbars and home theatre systems. On average, it takes around three hours for the installation, with some taking up to 8-hours, depending on the work required.
Q: Do you need a license to install or mount a TV?
A: Yes, according to the Greater City of Toronto, all technicians installing TVs require a license. John the Handyman has licenses to operate across Toronto and Ontario. So when you hire us, you're getting a credible, reputable, experienced, and licensed handyman service for your installation.
Q: Will mounting my TV damage my wall?
A: Mounting your TV to the wall is the best way to improve your viewing experience and declutter any room. However, the mounting process can damage your TV if you aren't careful. John the Handyman has experience with installing TVs in Toronto, in all makes and models. We'll ensure that we don't damage your new TV, giving you a hassle-free tv installation service you can trust.
Q: Does John the Handyman clean up after they finish installing my TV?
A: Yes, the site cleanup comes included in the costs of the installation service. We'll make sure your home is just the way we found it when we leave. We'll never leave the site without checking in with you first, even if it's over the phone.